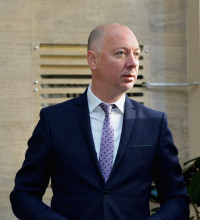 Railway infrastructure is subject to constant inspection, stated the Minister of Transport, Information Technology and Communications, Rossen Jeliazkov, before media representatives on yesterday's incident at Kresna Gorge. Jeliazkov made it clear that the railway network's condition is assessed every season with regard to the weather forecast. National Railway Infrastructure Company's staff conduct daily inspections of the railway lines, he added.
The Minister described the incident as a force majeure case that luckily inflicted no major damages for the passengers. Currently the railway lines are being cleaned in severe weather conditions.
Jeliazkov further commented on the measures to be taken in short terms, under his ruling, at holding BDZ EAD and the daughter passenger services company. "First comes the improvement of the management, second – rehabilitation of rolling stock, deployment of systems to monitor deliveries and warehouse stock and other resources, and then – improvement of ticketing systems, completion of procurement procedures for the repair and modernization of rolling stock." All of the above is to be realized in 2019.
Minister Jeliazkov also pointed out that until recently the policy adopted in the filed aimed at reducing BDZ's debts at the expense of internal processes. "There is no  pressure now from creditors or debts, and we will focus our efforts on good governance. BDZ shall be managed as a proper commercial enterprise", concluded the Transport Minister.