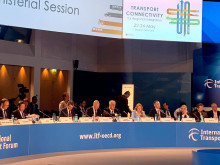 The base quota of ECMT/CEMT permits for the Bulgarian hauliers should be increased by 25%. This is what the Minister of Transport, Information Technology and Communications, Rossen Jeliazkov insisted on during the International Transport Forum, which is held today in Leipzig, Germany.
In the presence of his colleagues, the Bulgarian Minister pointed out that increasing the quota would provide gradual progress towards a more sustainable and efficient road transport system in Europe. This goal can be achieved by increasing the number of permits for Euro V and Euro VI heavy vehicles, Minister Rossen Jeliazkov said.
"Recognizing the latest geopolitical developments in Europe such as Brexit and the eventual implications of Mobility Package, as well as the fact that some ITF Member States are looking for new markets, we share the view that the quota of ECMT/CEMT permits can be a real practical tool for opening new opportunities for the international road transport market", added Rossen Jeliazkov.
The Minister was definite that the Bulgarian side supports the abolition of any territorial and administrative restrictions on the use of ECMT permits.
***
ECMT/CEMT permits are multilateral permits for international road haulage carried out by transport companies registered in one of the 43 Member States participating in the ECMT quota system. Permits are annual, valid for one calendar year, and short-term, valid for 30 days. An unlimited number of transport operations could be carried out with each permit.