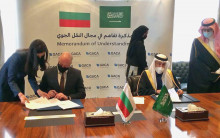 The Minister of Transport, Information Technology and Communications Rossen Jeliazkov and the Minister of Transport of the Kingdom of Saudi Arabia Saleh al-Jasser signed a Memorandum and an Agreement on Air Services between the Government of the Republic of Bulgaria and the Government of the Kingdom of Saudi Arabia.
There is no valid air services agreement between the Republic of Bulgaria and the Kingdom of Saudi Arabia, which prevents direct transportation of passengers, cargo and mail by air. The signing creates conditions for extension of bilateral trade and economic cooperation, incentive for tourism and improvement of connectivity between our country and the Middle East region.
During the visit Minister Rossen Jeliazkov held working meetings with the Chairman of the Board of Directors of the Saudi Space Commission Prince  Sultan bin Salman bin Abdulaziz Al Saud, who holds the rank of Minister, and with the Chief Executive Officer of "Flynas" air carrier Bander Almohanna.
The visit continues with meetings with the Public Investment Fund to discuss investment opportunities and joint projects between the two countries.