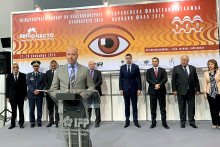 Sofia will host the World Philatelic Exhibition in 2020. This was announced by the Minister of Transport, Information Technology and Communications Rossen Jeliazkov during the opening of the European Philatelic Exhibition "Plovdiv Fila 2019" and the International Fair "Bulkolekto".
He recalled that the word "philately" means "friends forever." "It combines both the collector's spirit and the historical memory with the works of art, which are postage stamps," the minister said.
Rossen Jeliazkov pointed out that the two prestigious philatelic events take place in the year when we celebrate 140 years of the Bulgarian philately. According to him, the first editions were created in the city under the hood, which in 2019 is the European capital of culture. "This year Plovdiv is also the European capital of philately with this wonderful exhibition," the minister added.
As part of the opening of both exhibitions, Minister Jeliazkov validated the postage stamp "Old Sailing Ships". He said that this mailing would be of great interest to all lovers and collectors, not only because of its artistic value. "The author Nenko Atanasov has recreated the spirit of the times through seagoing ships of different eras, starting from Egyptian, Ancient Greek, Roman, passing through Viking, English, etc. to this day, "Minister Jeliazkov added. He stressed that the circulation of one of the projects is only 1000 copies.
The official opening of the event was attended by the Mayor of Plovdiv Ivan Totev, Secretary General of the European Federation of Philatelists Boyan Bracic, Director General of the International Fair Plovdiv Ivan Sokolov, Chief Executive Officer of Bulgarian Post Deyan Daneshki, President of the Union of Philatelists in Bulgaria Spas Palatchev in Bulgaria, representatives of the World Federation of Philatelists and others.