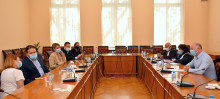 Bulgarian projects for digital transition under the European Mechanism for Recovery and Sustainability will be prepared in synergy between the state and business. This was stated by the Minister of Transport, Information Technology and Communications Rossen Jeliazkov at a meeting on his initiative with representatives of the State Agency for Electronic Government, the Communications Regulation Commission and mobile operators.
Within a week, the Ministry of Transport, Information Technology and Communications will present a thematic framework for potential projects, and then the discussion will continue operationally within a working group with the participation of representatives of the state and business, the minister said.
"For Bulgaria, the value of the support is a little more than 6.2 billion euros, of which 20% are provided for financing the so-called digital transition. Possible projects are the construction of high-speed networks, providing gigabit connectivity for centers of social life - buildings, hospitals, stations, schools, digitalization of public administration and key sectors such as health, transport and education, "said Rossen Jeliazkov. According to him, the discussion of the projects with the EC will start in October.
The Minister outlined as a favorable precondition that in the main strategic documents developed by MTITC, digital connectivity is set as a priority.
Rossen Jeliazkov assured that the state and the three involved institutions in the sector are partners and working well. The representatives of the operators expressed their readiness to get involved in digital transition projects and said that the support of the state is extremely important in areas where there is no commercial basis for private investment such as infrastructure and services in remote areas.
"We think in one direction, the goal is to achieve the viability of the projects and to avoid investing in unnecessary infrastructure. That is why the networks are being analyzed in order to use the available resources in a shared way, "said Minister Jeliazkov in conclusion.