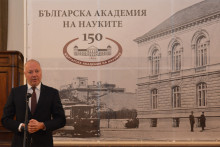 We work with the Bulgarian Academy of Sciences on many projects related to innovation, digital technology, information technology and communications. This was stated by the Minister of Transport, Information Technology and Communications Rossen Jeliazkov during the validation of the anniversary mark for the 150th anniversary of the establishment of BAS.
The minister noted that in the age of digitalization, the postage stamp remains the universal symbol that connects people. He stressed that this year's postage stamps mark a number of anniversaries, but BAS is the only institution that celebrates 150 years since its founding.
"I thank all the thousands of scientists who work in at least 50 organizations within the Academy for their work because Bulgaria, as part of Europe, is a cradle of science. Let us wish in the future, too, to be the cradle of new technologies, to catch up and outstrip the rest of the world, " Jeliazkov congratulated the academic community during the ceremony.
The anniversary mark was validated by Minister Rossen Jeliazkov, the Chairman of the BAS Academician Julian Revalski, the Executive Director of Bulgarian Posts Deyan Duneshki and the project artist Maya Staykova. It has a circulation of 6,500 pieces.