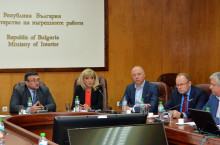 We have created the necessary organization to strengthen the control of road and passenger road transport during Christmas and New Year holidays. This was announced by the Minister of Transport, Information Technology and Communications Rossen Jeliazkov after the headquarters meeting in connection with the winter environment and the expected high passenger traffic.
In accordance with its powers and capabilities, EAM "Automobile Administration" has provided teams to carry out inspections as well as to assist other authorities when necessary, said Minister Rosen Zhelyazkov. In his words, the measures envisaged include stopping in-depth heavy goods vehicles, which, when switching from one meteorological situation to another, can create preconditions for accidents and hamper movement. Our observation shows that one in twenty vehicles is not prepared for winter conditions and therefore we have taken preventive action, the minister said.
The measures taken by EA "Automobile Administration" envisage that the teams of the Agency in the days of 22 and 26 December will be concentrated in the areas of bus terminals, railway stations, airports, shopping centers and border crossing points where the largest passenger flow is expected. During the weekends from 23 to 25 December 2018 and 1 January 2019, there will be on-duty teams, which will be ready to take control if necessary.
The inspectors of the Automobile Administration will inspect for violations related to the technical condition as well as to the observance of the normative requirements for public transport of passengers by buses and light taxi cars. Checkers will also be responsible for issuing tickets and baggage receipts, as well as standing passengers.
Joint inspections are being carried out with the Traffic Police in the regions of the border checkpoints in Rousse and Dobrich, where there is increased traffic of Bulgarian and foreign citizens to the resorts in Bulgaria. Up to now, 22 buses carrying passengers to Bulgaria or transit across the country in the direction of Turkey have been checked, as well as 15 taxis in the areas of the border checkpoints. So far, a taxi driver's fault has been detected.