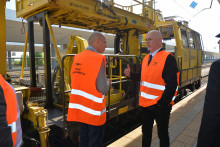 All construction companies that carry out their projects on schedule and with the required quality have our support. With the others, we will consider the possibility of terminating contracts and announcing new procedures in which we will invite the best international companies to participate. This was stated by the Minister of Transport and Communications Nikolay Sabev during an inspection of railway projects along Sofia-Plovdiv railway line.
Minister Sabev checked the condition of the Sofia-Elin Pelin railway section, whose construction contract was terminated due to regular non-compliance. NRIC Director General Zlatin Krumov explained that since the signing of the contract in 2016, all conditions have been created for the contractors to work along the entire route, but so far little progress has been made. The railway line in one of the directions is not completed and running along it is impossible, and this creates serious difficulties with the train schedule in the last several years.
Minister Nikolay Sabev also got acquainted on the spot with the construction of two railway tunnels between Elin Pelin and Vakarel. The builders presented the technology used to build the longest railway tunnel in the country and reported that 2 km of the facilities have been dug so far. The contractors informed Minister Sabev that under the previous NRIC leadership the communication was quite disrupted and they had to wait 50 days to have the necessary work permits for the staff issued. Ismail Dogan, manager of the executing consortium, pointed out that at those moment the documents were received for 2 days and thanked Minister Sabev for the good cooperation with the Ministry and NRIC in the last 5 months. Minister Sabev expressed the opinion that the contractors should file lawsuits against all those who have hindered the implementation of this strategic for the country project.