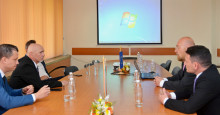 The Ministry of Transport and Communications will assist in organizing a working meeting of stakeholders on the City Railway Project in Ruse. This was stated by Minister Nikolay Sabev at a meeting with the Association of Regional Governors of Ruse. The meeting was hosted by the Governor of the Regional Administration Anatoli Stanev and the Deputy Governor Lyudmil Hristov.
High-speed transport with good Internet will start to solve the issue of demography in favor of small settlements and from this point of view the City Railway Project has my support, Minister Sabev said in the framework of the meeting.
The conceptual design for the City Railway has been approved by an expert council at the National Railway Infrastructure Company, representatives of the Association informed. It provides for extensive use of the existing infrastructure.
Improving connectivity is a priority of the government, with the aim of simultaneously starting construction and making connections with the infrastructures of neighboring countries, Minister Nikolay Sabev said during the meeting. That is why a second bridge near Ruse is needed to have a high-speed train Bucharest - Ruse - Sofia, he added. The Minister stated firmly that these plans should be developed in synergy, not just by one Ministry.