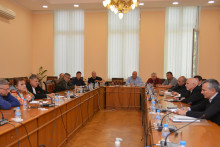 I am convinced that people involved in road traffic must go through such training and exams, go through a needle's eye to acquire skills with which to avoid dramatic situations on the road. This was stated by the Minister of Transport and Communications Nikolay Sabev at a meeting with representatives of unions and associations of teachers in driving schools. Deputy Minister Nikolay Naydenov and Deputy Chairman of the State Agency for Road Safety Dimitar Iliev also took part in the discussion at the initiative of the Road Transport Administration Executive Agency.
The meeting was held after the proposals of the teachers of the candidates for drivers were collected in advance. During the discussion today, the problems and the need for change were once again formulated.
An Expert Group on preparation of a legal framework is starting to work, which will adjust the current legal documents by following the Concept for training on road safety. It will be chaired by Deputy Minister Nikolay Naydenov and will include Deputy Chairman of the State Agency for Road Safety Dimitar Iliev, Director of the the Road Transport Administration Georgi Palagachev, representatives of the Ministry of Education and Science and driving schools. Once the materials are prepared, they will be sent to the participants in today's event. The proposals will be discussed again at the next meeting.
The goal is to increase road safety and reduce casualties, Minister Sabev added. "You work in the field, we expect you to express your opinion on what needs to be changed in terms of exams and training materials, as well as practical training. We are engaged together in a very important process. Thank you for the responsibility, for the proposals you make and for the desire to continue working together on the development of the legal framework", Minister Sabev concluded.