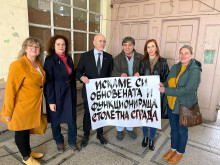 We want to preserve and restore the building of Nova Zagora Railway Station. This is what the Minister of Transport and Communications Nikolay Sabev said within a public discussion upon his initiative on the project for modernization of the Station.
This is the place from which generations of Nova Zagora have started their way to the world, Minister Sabev commented during the discussion. He supported the citizens of Nova Zagora, who insist that the building be preserved. Sabev said he would ask for a written statement on whether the procedure for selecting a project contractor was flawed.
The participants in the discussion agreed that for years there has been a lack of care in maintaining the building.
"I am impressed by the civil society energy that brought you here to preserve your historical heritage, your history", Nikolay Sabev concluded.
National Railway Infrastructure Company will make analyzes and calculations within 2 weeks whether the preservation of the building of Nova Zagora Railway Station will delay the implementation of the project for its modernization, which relies on European funding. Architects from the area, who are involved in the cause of preserving the building, can also be involved in the calculation work.
***
The project for reconstruction of Nova Zagora Railway Station complex is from 2017. After the procedures for selection of contractors, contracts have been concluded, which provide for the demolition of the existing building and construction of a new building. It was the reason for continuing dissatisfaction of the city's residents.