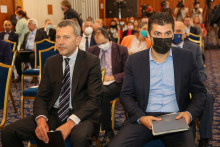 The Three Seas Initiative is an opportunity for synergy that will further contribute to the acceleration and sustainable development of the connectivity and joint economic development of the participating countries. This is what the Minister of Transport, Information Technology and Communications Georgi Todorov stated in the framework of a Session on Innovation and Connectivity, which was part of the Three Seas Initiative Conference on Unity, Innovation and Connectivity.
Minister Georgi Todorov pointed out that in the said way an opportunity was provided to strengthen the interaction between the participating countries, with the cooperation and partnership of the European Union, the United States and Germany. The role of the Three Seas Business Forum as a platform for interaction is of great importance, with a huge potential for the future realization of investments and innovations in the fields of transport, energy and digital infrastructure. The main role for the implementation of infrastructure projects under the Investment Fund of the Initiative has the Banks for Development of the Member Countries, according to the Minister.
"The Ministry of Transport, Information Technology and Communications of the Republic of Bulgaria has focused its efforts on building the Trans-European Transport Network with uniform standards and quality, which is expected to ensure sustainable mobility of people and connectivity of all regions of the Union. Given the geographical position of Bulgaria on the traditional trade routes between Europe and Asia, the main priority of our policy is to improve the transport connectivity of our country with the countries of the European Union and the neighboring countries", the Minister added. Improving north-south connectivity in the Three Seas region and establishing a strategic link with the former Corridor VIII would contribute to a more efficient and sustainable economic development of the countries in the region, including helping the stabilization process in the countries of the Western Balkans and their integration with the rest of Europe, Minister Todorov said.