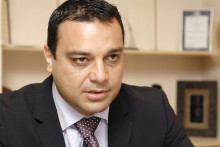 By order of the Minister of Transport, Information Technology and Communications, Ivaylo Moskovski, teams of EA"Automobile Administration" were sent to carry out inspections at the scene of the incident and at the office of the carrier.
The bus has been operating on the regular Burgas-Sofia line, has a valid technical inspection (No. 15440515 of 06.02.2018) and an additional inspection card. The vehicle's first registration is from August 14, 2017 and is licensed by the carrier "Union Ivkoni". The bus driver has all the necessary documents for the public transportation of passengers.
The Minister of Regional Development and Public Works, Nikolay Nankov ordered the Road Infrastructure Agency to provide an alternative route. The teams of the Road Infrastructure Agency and the Road Maintenance Company provide assistance to the Ministry of Interior for organization of the traffic in the accident area.
A specialized auto-laboratory and experts from EA "Automobile Administration" are at the scene of the incident and will carry out additional inspections after the law enforcement activities have been completed.