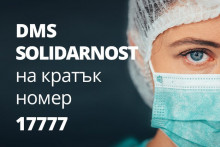 Nowadays, the most important thing is the efforts of each of us to focus together, so that we as a society go through the COVID-19 test and come out of it not only stronger, but also united.
At present, the greatest need of support experience our healthcare system and all those whose professional knowledge and experience are focused on ensuring that all of us have adequate medical care in times of a pandemic crisis.
This is a difficult task that requires empathy. That is why we appeal to all Bulgarian citizens who have the opportunity to be in solidarity and join the campaign by donating BGN 1 by sending a text message DMS SOLIDARNOST to short number 17777 for the three mobile operators in Bulgaria (VAT not deducted).
All funds raised will be spent in full transparency. The donations will be used to buy doctors' specialized medical equipment and appliances, personal protective equipment with the highest protection class, as well as anything else that hospitals urgently need in the conditions of a spreading coronavirus infection.
The goal, which we set together, is to raise BGN 5 million.
Let's be in solidarity!
https://dmsbg.com/16648/dms-solidarnost/