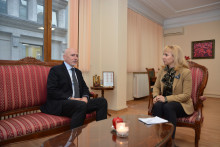 The role of the Public Defender is very important for the Ministry of Transport and Communications, because the two institutions can work together to make citizens been heard and to have a strong civil society. This is what the Minister of Transport and Communications Nikolay Sabev stated at a meeting today with the Ombudsman Diana Kovacheva. The reason for the talks was the opinion of the Public Defender on the effectiveness of car eco-stickers.
Minister Sabev assured that the signals received by the Ombudsman on this topic, as well as on all other issues of public interest, will be carefully checked and analyzed.
We are discussing with the Minister of e-Government Bozhidar Bozhanov the possibility of removing those paper documents and stickers that complicate the lives of end users, Nikolay Sabev explained. On the other hand, the idea of whether a smart solution can be found on how stickers that have already been placed can make people's lives easier will be discussed, and one of the examples is their use in parking, the Minister added.