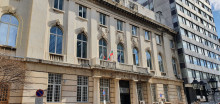 The Ministry of Transport and Communications assessed the applications of Bulgarian airlines for grants.
The approved eligible candidates will receive a grant of a total of BGN 56 million. The timely provision of assistance will maintain the competitiveness of Bulgarian airlines.
The financial support is provided by the State Budget of the Republic of Bulgaria.