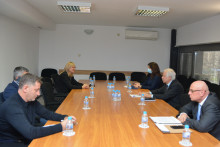 The Ministry of Transport and Communications will assist as soon as possible in opening an air line between Sofia and Skopje in case of interest from an airline to operate the flights. This assurance was received by representatives of the airlines at a meeting today at the Ministry. From a legal point of view, there is no obstacle to the start of passenger transport by air, because there is an indefinite Memorandum for cooperation between the Aviation Administrations of the two countries, which was signed in 2015.
The representatives of the airlines expressed interest in principle, emphasizing that the future of the air line depends on the development of economic relations between the two countries.
When an interest with specific parameters is expressed, the Bulgarian Civil Aviation Administration will start talks with its counterparts of the Republic of North Macedonia to clarify the details.