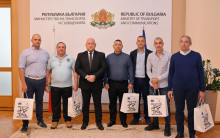 The Ministry of Transport and Communications awarded the employees of the railway authority and the fireman Varban Petkov, who showed a timely reaction to evacuate the passengers in the accident with the train from Sofia to Varna in the area of Kaspichan station. The awards were presented by the Deputy Minister of Transport and Communications Krasimir Papukchiyski in the MTC building.
On behalf of the Deputy Prime Minister for Economic Policies and Minister of Transport and Communications, Hristo Alexiev, and on his own behalf, Deputy Minister Papukchiyski expressed gratitude for the high professionalism shown in preventing tragic consequences related to the loss of human lives.
"This incident is an example of the fact that we all have to bear our professional and civil responsibility, to be vigilant and show respect for the assets that are managed by BDZ and the State", Papukchiyski pointed out.
During the ceremony, the Deputy Minister stated that 160 carriages this year were subject to repair and modernization according to fire safety requirements during travel.
He appealed to commuters, in case they notice acts involving incendiary devices and smoking, to inform the transport brigade immediately.
The awarded employees with excellent performance of official duty and taking timely reactions from Bulgarian State Railways and National Railway Infrastructure Company are:
Galina Georgieva – Train Manager, Division for passenger transport Gorna Oryahovitsa
Anka Nikolova – Dispatcher, Division for passenger transport Gorna Oryahovitsa
Stamen Ivanov – Conductor, Division for passenger transport Gorna Oryahovitsa
Ognyan Martinov – Locomotive driver, Division for passenger transport Gorna Oryahovitsa
Denislav Kaloyanov – Driver's assistant Gorna Oryahovitsa passenger transport division
Plamen Lichev – Senior Train Dispatcher, Regional Unit Gorna Oryahovitsa
Ivan Ivanov – Train dispatcher, Gorna Oryahovitsa Regional Unit
Deyan Blagoev – Energy dispatcher, Regional Unit Gorna Oryahovitsa