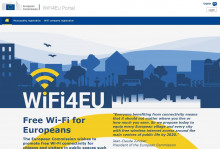 The European Commission has added new requirements to the required documents for municipalities to fund WiFi4EU public wireless internet projects. Full information is available on the website of the Ministry of Transport, Information Technology and Communications in the Questions and Answers section of the EIT and WiFi4EU.
Two hundred and nine Bulgarian municipalities have registered to participate in the first contest. Before submitting proposals on May 15, accompanying documents must be provided - a copy of a mayor's identity document or an employee authorized by him; a document certifying that he is the legal representative of the municipality (eg a nomination act) and others. Documents will need to be uploaded as separate files on the WiFi4EU portal on the My Account page.
Municipalities can use the 15,000-euro budget for "hotspots" for free fast internet within 18 months. In case a WiFi4EU bid is received that meets the requirements but is worth less than EUR 15,000, municipalities should require the provision of additional equipment (more access points, firewall, etc.) in order to the amount granted is reached.
Soon, technical specifications will be published on the EC's question and answer page.