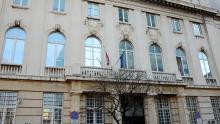 Legislative amendments proposing the division of the bus stations into three different categories are developed by order of the Minister of Transport, Information Technology and Communications, Mr. Ivaylo Moskovski. This decision was reached as a result of a several months long discussions between experts and branch representatives for development of a new system, ensuring the provision of quality bus station services for citizens and carriers.
The new requirements will not create additional burdens for bus station owners. The envisaged criteria, determining a third category bus station are almost identical to the existing minimal mandatory requirements, which bus stations in the country should meet.
Security measures and increased requirements for accessibility to amenities for people with disabilities and reduced mobility are also introduced to all bus station categories. It is envisaged that all terminals should have a website, a telephone number for contact and should also provide wireless internet connection.
Additional criteria related to convenience and comfort of bus station passengers, the insurance of a security guard and the languages, on which the bus station shall provide its services via website or telephone, are also regulated for first and second bus station categories.
First category bus stations should have trained personnel at disposition and should also provide free assistance to people with disabilities and reduced mobility.
The amendments aim the avoidance of discrimination against people with disabilities and reduced mobility and facilitate to full extend their bus travel and their use of bus station services.
A methodology for determining of bus station service pricing will be developed, based on the categorization. Currently, prices are formed freely, regardless of the size of the bus station and the services provided by it.