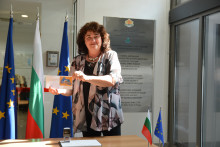 Ms. Andreana Atanasova, Deputy Minister of Transport, Information Technology and Communications validates a postage stamp on the occasion of the First Bulgarian coordination of Common Maritime Agenda for the Black Sea.
The postage stamp will be sent to the governments of Georgia, Moldova, Romania, Russia, Turkey and Ukraine, as well as to the European Commission.
"With this postage stamp we will promote Bulgaria's active role in the field of international cooperation, especially with regard to the Black Sea region,"- Deputy Minister Atanasova said during the ceremony.
"In the project the artist Emilio Borata combines the symbols of the Black Sea coast, which connects the countries of the region, and this is the main goal of the initiative - to create a common Agenda for the development of the Black Sea" - added Ms. Andreana Atanasova.
The publication "Bulgaria - the first coordinator of the Common Agenda for the Black Sea 2020" consists of one postage stamp in a folder. The circulation of the stamp is 6,000 pieces.