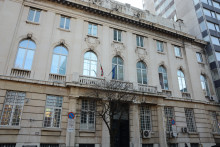 The ancient ritual "Nestinarstvo" is the theme of one of the post-philatelic editions, which will be put into usage in 2018. The thematic plan for issuing postal products and special postal stamps was approved by the Minister of Transport, Information Technology and Communications Ivaylo Moskovski.
In 2018 a special edition will be dedicated to 1300 years of Khan Tervel's victory over the Arab army and the siege of Tsarigrad in 718. Bulgaria and Russia will jointly put into usage two postage stamps to mark the 140th anniversary of the end of the Russo-Turkish War. The historic-themed stamp issuing is presented with postal editions dedicated to the 150th anniversary of the crusade of Hadzhi Dimitar and Stefan Karadzha' s detachment and the 100th anniversary of the ascension to the throne of King Boris III. It is expected the postage stamp dedicated to the 900th anniversary of the Medieval Medal of the Templars to attract the interest of many Bulgarian and foreign philatelists.
In 2018, Sofia is declared for the European Capital of Sport, and in 2019 Plovdiv will be the European Capital of Culture. These events will be also marked with postage stamps.

The thematic plan for postal stamps in 2018 approved by minister Moskovski is based on numerous proposals from organizations and institutions. They were assessed by the Specialized Expert Council for Postage Stamps Issue on the basis of criteria defined in a normative act.