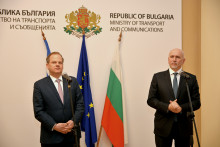 In the current year we are opening a new border crossing at Zlatograd-Thermes. This was stated by the Minister of Transport and Communications Nikolay Sabev after meeting today with the Minister of Infrastructure and Transport of Greece Konstantinos Karamanlis.
The Bulgarian side is committed to taking action to speed up the passage through the Makaza-Nymphea checkpoint by installing scales for trucks. The aim is to alleviate traffic at the Kulata-Promahon border checkpoint. Next year, a checkpoint near Rudozem and Xanthi will be opened, the Bulgarian Minister of Transport added.
When asked by a journalist after the meeting about Bulgaria's participation in the concession of the port of Alexandroupolis, Minister Sabev answered that the Bulgarian State wants to acquire at least 20 percent of the shares. "We are still discussing which consortium to join. The Port of Alexandroupolis could become one of the strategic points in the common transport connection between Bulgaria and Greece", he commented.
After the meeting, Konstantinos Karamanlis pointed out that important things have happened in the last three months to speed up transport projects between the two countries. We are opening a new page in the relationship, he added. Minister Karamanlis informed that the tenders for the realization of the railway corridor "Thessaloniki - Kavala - Alexandroupolis - Burgas - Varna - Ruse" have been announced. In 2023, contracts will be signed. Completion of construction is scheduled for 2027-2028.