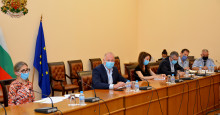 New measures to support road haulage were discussed. This happened today during a meeting organized upon the initiative of the Minister of Transport, Information Technology and Communications Rossen Jeliazkov.
The facilitation of the regime for the passage of heavy goods vehicles through border crossing points was discussed. The main concerns of the industry are related to the formation of long queues of trucks at the Bulgarian borders. It was agreed upon that all responsible institutions, together with the industry, will explore the opportunities and coordinate the reorganization and optimization of checks carried out at border ccrossing points related to compliance with traffic rules, toll payments and others established in European legislation. The proposal to reduce the administrative burden of collecting fines so that it would be more efficient without creating difficulties for hauliers was also considered.
The assossiations of the industry presented the idea to build buffer parking lots for heavy vehicles in the long run near the border crossing points, where, if possible, joint inspections could be carried out.
The opportunities to adapt the 60 to 40 measure to the transport industry were also considered. At present, transport companies cannot meet the established criteria, as the nature of work related to freight transport does not allow employers in the sector to establish part-time work for their employees.
The talks were attended by representatives of the associations of the road haulage industry, the Ministry of Transport, Information Technologiy and Communications, the Ministry of Interior, the Ministry of Labor and Social Policy, the Customs Agency and the Road Infrastructure Agency.