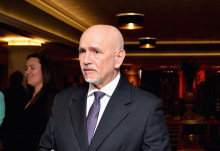 We are taking action to tackle the gray sector and unregulated road transport. Each received signal will be worked on jointly with the National Revenue Agency. This was announced by the Minister of Transport and Communications Nikolay Sabev during a discussion on the vision for the development of public transport 2022 - 2027.
Next week, an expert council will start working, the first step of which is to synchronize the schedules between all modes of transport. The council will also address the short-term problems of carriers.
The participants in the forum agreed on the proposal of Minister Nikolay Sabev that the most important step is to synchronize the schedules between all modes of transport.
"An entirely new model needs to be established for long-distance passenger transport. Bus and rail passenger transport must not operate in a competitive environment, but in a single chain so as to benefit people, but also to benefit economically carriers", Minister Nikolay Sabev said.
"There are villages that are not served by public transport. We cannot allow this. The State must guarantee the mobility of the population in any part of the country", Nikolay Sabev added.
Representatives of the responsible State Institutions, MPs, the National Association of Municipalities in the Republic of Bulgaria, the Bus Industry, Trade Unions and Non-Governmental Organizations took part in the discussion.