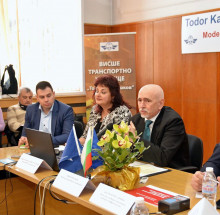 No investments have been made in the railways in the last 30 years and the carrier has been deliberately bankrupt. This was stated by the Minister of Transport and Communications Nikolay Sabev during a Round Table on "Restructuring of railway transport and implementation of the European program for reconstruction and development - a new perspective of the railways." He added that 45% of BDZ's rolling stock is out of operation and is not included in the company's repair program, while half of the applications were rejected due to inability to fulfill them.
"As a result of these actions, a number of private freight carriers appear, and at the same time the state railway is in fact bankrupt and is supported only by the subsidy", Nikolay Sabev said. "BDZ does not have a system for rolling stock management and material base, as well as no mechanism to guarantee the quality of service. In the new management structure we will invest in digitalization, cleanliness and staff, and our goal is to develop the brand of BDZ National Company", Minister Sabev added.
According to him, the BDZ reform program envisages the company to make a profit in 2023, and the effectiveness of the implemented measures will be measured every 3 months. "We plan to use the mechanisms of public-private partnership, including through the concession of railway stations, with the aim of turning them into modern urban hubs that combine several types of transport", Sabev explained.
Regarding the state of railway freight transport in Bulgaria, Minister Sabev gave an example that last year out of 254 thousand tons of coal transported from Varna to Ruse, 250 thousand tons were transported by heavy weight vehicles, which is over 98%.
A wide range of representatives of the railway organizations, trade unions and business took part in the discussion, expressing their support for the planned reforms in BDZ.