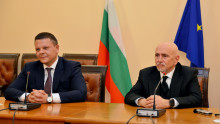 We are here to speed up the economic development in the field of transport and reduce the time  needed to transport passengers and goods. This is what the newly appointed Minister of Transport and Communications Nikolay Sabev announced upon receiving the management of the institution by the recent Minister Hristo Alexiev.
We will protect the public interest and will continue the strict control over the implementation of the concession contracts, which was started by the Caretaker Government, assured Minister Nikolay Sabev . He congratulated his predecessor Hristo Alexiev for managing the sector well in a short time. We continue to work in one team, the recent and the newly appointed Ministers commented.
"My first visit as a Minister will be indicative and will be in Ruse. On Friday I will organize a broad public discussion with business entities and citizens, the main topics being the development of the airport in the city and the optimization of procedures for crossing the Danube Bridge 1", he added.
For the short management of the Caretaker Government we managed to move the sector one step further, Hristo Alexiev said.
***************************
Nikolay Sabev is a Bulgarian entrepreneur, innovator and visionary. He is an expert in business modeling and strategic analysis.
Founder of the logistics group with the Econt brand.
His professional career in the private sector started in 1993, and before that he held the position of commercial director in the Bulgarian River Shipping State Enterprise.
Nikolay Sabev was born in 1960 in Ruse.
He graduated Nikola Yonkov Vaptsarov Naval Academy in Varna with honors, majoring in Fleet and Port Management in 1983. He successfully graduated the University of National and World Economy in Sofia, majoring in Economics and Transport Management in 1990.
He has completed numerous postgraduate courses. He studied classical and innovative scientific works in the fields of marketing, finance, communications and statistical analysis. Recently, he has been enlarging his expertise with blockchain analyses and other innovative technologies.
Sabev is the compiler of the textbook "For Boatmasters on the Danube".
Nikolay Sabev is a major donor to the Municipal Foundation "Ruse – City of the Free Spirit", which finances the renovation of symbolic city buildings, educational programs in the country and in the town of Ruse.