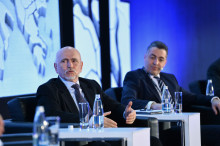 War in Ukraine has proved that we are on the right track with the Government's Policy of opening more transport links with neighboring countries. This was stated by the Minister of Transport and Communications Nikolay Sabev during the Annual Business Meeting with the Government, organized by Capital. According to him, there are already problems in the supply chains. Many insurers do not want to be responsible for ship charters for loading and unloading in the Black Sea basin. "We have been working very actively on alternative supply chains for several weeks now", Minister Sabev said. He added that one of the possible options for maritime transport was to finish elsewhere, for example Greece.
Asked by the host for a potential update of NRIC contracts, Minister Nikolay Sabev commented: "We want the concluded contracts to be fulfilled. In case they fail to fulfill them, we will announce new tenders, inviting everyone to participate, including international high-tech companies to improve the speed of infrastructure construction", Nikolay Sabev added.
Another participant in the discussion, Agropolychim Executive Director Philippe Rombaut commented that over 80% of all grain trucks that come to their base are overloaded, and most of these trucks go to the State Port of Varna, which leads to the destruction of the road. "Business will support the State's actions to increase control", Rombaut said. He thanked the Minister for finding a solution to the long-standing problem with the road to the Port of Varna.