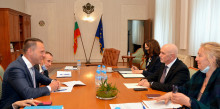 We are working on building a system through which we will unite all structures related to border control so that they function much faster. This was stated by the Minister of Transport and Communications Nikolay Sabev during today's meeting with the Director of the Permanent Secretariat of the Transport Community with the Western Balkans Matej Zakonjšek.
Minister Sabev pointed out that in order to increase the efficiency of transport chains, waiting hours at the borders must be significantly reduced. "Our goal is to create conditions for easier crossing of all border crossings, including the countries of the Western Balkans", Nikolay Sabev said.
Regarding Corridor 8, Minister Sabev noted that for the first time in many years the direction is considered as a whole and not as separate projects. This increases the added value of the investment and the importance of the project for the whole of Europe. According to him, Bulgaria, Northern Macedonia and Albania strongly support the establishment of the connection between the Adriatic and the Black Sea and will work in coordination on the project. "The three countries are currently preparing a joint statement to the European Commission for the inclusion of the Sofia-Skopje-Tirana-Durres railway in the scope of the future corridor of the Western Balkans TEN-T Network", Minister Nikolay Sabev added.