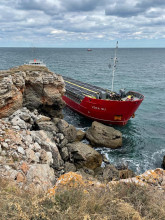 The implementation of the approved salvage plan for the unloading activities of the trade ship Vera SU began today. According to it, the operation would take 3-4 days. A diving inspection of the area of the accident was carried out again and the ship was inspected for new breaches. All fallen objects and dangerous plastic materials have been removed from the hull of the vessel, and additional anchors have been placed for its better stabilization.
The implementation of the plan envisages the attachment of a barge with external hydraulics to the stranded ship, which will control the process of opening and closing the barn and the overall management of the vessel.
The liquefied urea will be pumped with the three barges provided by the European Maritime Safety Agency and will be transhipped to the specialized tanker GALAXY ECO. The dry urea will be transported to the Port of Varna-East, where it will be loaded on BDZ wagons.
The last step to be taken after unloading is to release the ship, tow it and take it to a safe place. Before that, the hull of the ship will be reinforced and strengthened.
According to the weather forecast, the appropriate time in which it will be possible to work safely is within a few days, which is the teams will work in a 24-hour mode.
All guidelines and requirements of the Ministry of Environment and Water as a competent authority for the purpose of environmentally friendly unloading, transportation and disposal of cargo are met.