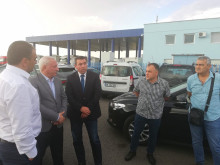 By order of the Deputy Prime Minister and Minister of Transport and Communications Hristo Alexiev, Deputy Minister Nikolay Naydenov checked the organization of work at Danube Bridge 2 border crossing point. The reason for the inspection was the kilometer-long queue of heavy-weight vehicles at the exit of the country.
Deputy Minister Nikolay Naydenov announced that a Framework document had been prepared between Bulgaria and Romania to ease the procedures for crossing the border checkpoint. An official opinion of the Romanian side on the document is expected.
According to the Draft Document, the two countries should work closely together to provide the best opportunities for efficient border crossing procedures. Efforts need to be focused on ensuring 24-hour passage of vehicles through border crossing points, simultaneous border checks of more than one vehicle, separation of the flow of heavy goods vehicles registered in EU countries from those registered in third countries, increasing the number of vehicle weighing scales. Long-term measures will include the construction of parking areas near border checkpoints and toll and permit control areas.
In order to find long-term solutions to speed up the passage through the border crossing points between the two countries, the Deputy Prime Minister and Minister of Transport and Communications Hristo Alexiev will initiate a meeting with the Deputy Prime Minister and Minister of Transport and Infrastructure of Romania Sorin Mihai Grindeanu. Normal 0 21 false false false BG KO X-NONE /* Style Definitions */ table.MsoNormalTable {mso-style-name:"Table Normal"; mso-tstyle-rowband-size:0; mso-tstyle-colband-size:0; mso-style-noshow:yes; mso-style-priority:99; mso-style-parent:""; mso-padding-alt:0cm 5.4pt 0cm 5.4pt; mso-para-margin-top:0cm; mso-para-margin-right:0cm; mso-para-margin-bottom:8.0pt; mso-para-margin-left:0cm; line-height:107%; mso-pagination:widow-orphan; font-size:11.0pt; font-family:"Calibri",sans-serif; mso-ascii-font-family:Calibri; mso-ascii-theme-font:minor-latin; mso-hansi-font-family:Calibri; mso-hansi-theme-font:minor-latin; mso-fareast-language:EN-US;}