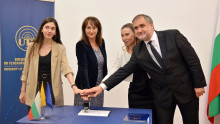 The Deputy Minister of Transport, Information Technologies and Communications Hristina Velinova and the Rector of the Higher School of Telecommunications and Posts Prof. Dr. Miglena Temelkova validated a publication dedicated to the educational institution. The executive director of Bulgarian Posts EAD Deyan Daneshki also took part in the event. The university inherits the traditions of the State Telegraph and Post School, which was established 140 years ago by decree of Prince Alexander I Battenberg.
"For 140 years, the school has been developing innovative programs," Deputy Minister Velinova said during the ceremony. She stressed that the graduates of the school have participated in the construction of communication lines and facilities in the country, and today they are trained in modern specialties such as "Cybersecurity of communication technologies."
"The leading role in the training of highly qualified personnel for the technology sector has been recreated from the postcard, which we are validating," the deputy minister added.
The artist of the projects is Dilyana Peeva. The circulation of the edition is 1556 copies.