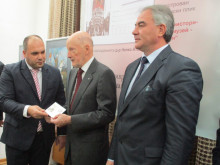 The Deputy Minister of Transport, Information Technology and Communications, Dimitar Genovski, The Honorary Chairman of the Union of Philatelists in Bulgaria Simeon Saxe-Coburg Gotha and the Mayor of Pleven Georg Spartanski validated two post-philatelic publications. They are issued in celebration of 140th anniversary since the Pleven Epopee, 40 years since the establishment of the Pleven Panorama and 110 years since the establishment of the Military History Museum.
"The peaks of Bulgarian historical glory can be traced back to our marquee," Deputy Minister Genovski said during the ceremony. According to him, one of the brilliant topics in the philately is related to the fighting in Pleven, which changed the course of the Russo-Turkish War and hence the fate of Bulgaria.
During the Liberation War, Pleven gains extremely great military and strategic importance, the Deputy Minister said. He recalled that one of the most emblematic buildings not only for Bulgaria, but also for the Balkans - "Panorama", was opened in 1977 in memory of the bloody battles. It is part of the structure of the Military History Museum in Pleven and also is the home of an exhibition that recreates the events of the Pleven Epopee.