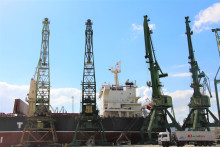 "Port of Varna" EAD will continue to implement the policy pursued by the Ministry of Transport and Communications in relation to the commitment to Ukraine for handling grain cargoes, the Deputy Minister of Transport and Communications Vladimir Varbanov stated.
"I will demand from the newly appointed Executive Director of the Port, Ivaylo Gavrailov, to implement a flexible and active commercial policy in order to comply with our expectations", Varbanov added.
If necessary, actions will be taken to negotiate with operators of private terminals in the area of ​​the Port of Varna. The storage areas on the territory of all terminals (owned by the State and private) have a capacity of 150 thousand tons for the storage of cereals. The possibility of docking a large vessel at one of the piers of the Port in order to increase the capacity of the storage areas is also being considered.
We plan to apply to the EC for the granting of emergency financial assistance for the construction of additional grain silos at Varna-Zapad Terminal.
This is an opportunity to register growth of the Bulgarian economy, help Ukraine and fulfill the commitments to the European Union, Vladimir Varbanov said. Normal 0 21 false false false BG KO X-NONE /* Style Definitions */ table.MsoNormalTable {mso-style-name:"Table Normal"; mso-tstyle-rowband-size:0; mso-tstyle-colband-size:0; mso-style-noshow:yes; mso-style-priority:99; mso-style-parent:""; mso-padding-alt:0cm 5.4pt 0cm 5.4pt; mso-para-margin-top:0cm; mso-para-margin-right:0cm; mso-para-margin-bottom:8.0pt; mso-para-margin-left:0cm; line-height:107%; mso-pagination:widow-orphan; font-size:11.0pt; font-family:"Calibri",sans-serif; mso-ascii-font-family:Calibri; mso-ascii-theme-font:minor-latin; mso-hansi-font-family:Calibri; mso-hansi-theme-font:minor-latin; mso-fareast-language:EN-US;}