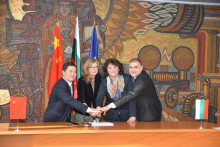 The Deputy Prime Minister and Foreign Minister Ekaterina Zaharieva, Deputy Minister of Transport, Information Technology and Communications Andreana Atanasova and Chinese Ambassador Dong Xiaojun validated a post stamp for the 70th anniversary of diplomatic relations between Bulgaria and China.
This is the third time, we are presenting a stamp dedicated to the relations between the two countries, Deputy Minister Atanasova said during the ceremony. "This is how we create an encyclopedia of our good relationships, political dialogue, economic cooperation and cultural relations," she added.
The Deputy Minister said that the designer of the edition, Tahsin Ahmed, used the symbolism of the plaque art to create a philatelic work that would be of interest to collectors of thematic editions.