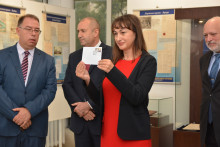 The President Rumen Radev, Deputy Minister of Transport, Information Technology and Communications Christina Velinova, Minister of Culture Prof. Velislav Minekov, Chairman of the State Archives Agency Assoc. Prof. Mihail Gruev and the Director of Bulgarian Posts Deyan Daneshki validated a postage stamp. The edition is dedicated to the 70th anniversary of the State Archives establishment in Bulgaria.
The postage stamps represent an artistic archive of the most significant historical events, said Deputy Minister Velinova during the ceremony.
Ivelina Velinova is the artist of the design. She has recreated one of the most precious artefacts, which can be found in the state archives - the Manifesto of Independence. The Bulgarian scene-painter Haralampi Tachev illustrated and wrote in calligraphy the document.
By depicting the manifesto on a postage stamp, the message that when we are united, we achieve our national goals will reach thousands of Bulgarians in our country and all around the world, and the collectors of philatelic products as well", added Christina Velinova.