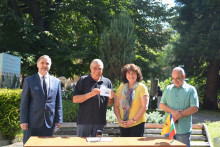 The Deputy Minister of Transport, Information Technologies and Communications Andreana Atanasova, the Director of the National Center for Polar Research Prof. Hristo Pimpirev and the Executive Director of Bulgarian Posts EAD Deyan Daneshki validated the postal and philatelic edition. The two-brand series is dedicated to the 200th anniversary of the discovery of Antarctica and 50 years of Bulgarian research on the Ice Continent.
The topic of the Antarctic mission is one of the most popular not only by Bulgarian philatelists, but also among the world's collectors of miniature postcards, said Deputy Minister Atanasova during the ceremony. According to her, this thematic line in the native stamp issuance began after the opening of a kind of symbol of statehood on the Ice Continent - a temporary Bulgarian post office.
The artist of the projects is Atanas Atanasov and the circulation of the stamps is 8000 pieces.