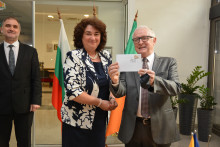 A postage stamp marked the 170th anniversary of the Irish journalist James Boucher's birth. The validation seal was put by the Deputy Minister of Transport, Information Technology and Communications Andreana Atanasova, the Ambassador Extraordinary and Plenipotentiary of the Republic of Ireland HE Michael Forbes and the Executive Director of Bulgarian Posts Deyan Daneshki.  
"Journalist and public figure James Bourchier is an outstanding friend of Bulgaria and is often called 'The Irishman with a Bulgarian heart'" said the Deputy Minister Andreana Atanasova during the ceremony. She added that with today's edition we celebrate our respect for James Bourchier's efforts in the late 19th and early 20th century in supporting Bulgarian independence and the establishment of Bulgaria as a country with new moral values, embarked along the road to Europe.
The Deputy Minister recalled that the first postage stamps about James Bourchier were issued 100 years ago. Later, his portrait appeared in a philatelic edition as a character from Ivan Markvichka's painting "Rachenitsa", added Andreana Atanasova.
"James Bourchier arrived in the Balkans at the end of the 19th century as a journalist with a mission to cover the conflicts in the Balkans, but he fell in love with Bulgaria, something I myself share," said HE Michael Forbes. In his words, Bulgaria is becoming a cause for the Irish journalist.
The artist of the edition is Lyudmil Metodiev and the circulation is 5500 copies.