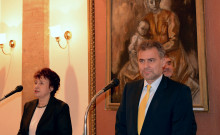 The twenty-fifth edition of the International Festival of Masquerade Games "Surva" is the theme of the most recent postal philatelic edition. The issuing stamp was put at a ceremony in the Palace of Culture in Pernik by Deputy Minister of Transport, Information Technology and Communications Valery Borissov, the mayor of the city Dr. Vyara Tserovska, the Executive Director of "Bulgarian Posts" Deyan Daneshki and the project artist Lyudmil Vesselinov.
"Thanks to our hosts from Pernik, since 1965 a centuries-old tradition has been living here" said Deputy Minister Valery Borissov. He added that the Festival of Masquerade Games "Surva" is now a part of the UNESCO World Intangible Cultural Heritage.
This year, for the 25th anniversary edition, Pernik expects 110 groups with over 7,000 participants who will show their traditional costumes, rhythms and dances.
The theme of kukers and survakars exists in Bulgarian Postage Stamp Issuing from the mid 60s of last century. Today is the second edition of the "Surva" series which depicts traditional Pernik survakari masks. It is a block postage stamp, Illustrated envelope and a special postage stamp. The circulation is 10 500 copies.