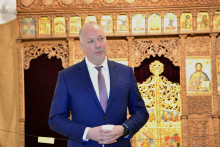 Patriarch Kiril is a great clergyman who lived in turning times in a historical epoch, which in its tragedy has no analogue in human history. This was noted by the Minister of Transport, Information Technology and Communications Rossen Jelyazkov during the validation of a postal and philatelic edition on the topic "120 years since the birth of Patriarch Kiril Bulgarski".
Minister Jelyazkov described the case of Patriarch Kirill as a heroic moment in one of the saddest stories of mankind - the Holocaust. "He has inspired what is actually the great virtue of the Bulgarian people, namely mercy, compassion. What has helped us to be proud of his deed and the spirituality, moral foundations and values ​​of our people. "That gives us a reason and an opportunity today to look with honest eyes at our friends from Israel," he added.
The seal on the newest stamp in the Bulgarian philately was put by Minister Rossen Jelyazkov, the Metropolitan of Ruse Naum, the executive director of Bulgarian Posts Deyan Daneshki and the artist of the edition Nenko Atanasov. Its circulation is 6,000 copies.