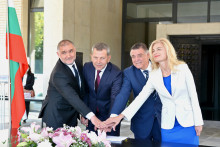 The postage stamp, dedicated to the 90th anniversary of the establishment of diplomatic relations between Bulgaria and Argentina, continues the tradition with which we mark important events in the relations between the governments and the peoples with philatelic editions.  This was stated by the Minister of Transport, Information Technology and Communications Georgi Todorov during the ceremony of validation of the common post mark. He put the seal together with the Deputy Minister of Foreign Affairs Zaritsa Dinkova, the Ambassador of Argentina Alfredo Atanasoff and the Executive Director of Bulgarian Posts EAD Deyan Daneshki.
 "The postal administrations of Bulgaria and Argentina have chosen beautiful symbols for the common philatelic edition - the national flowers - Rosa Damascena and Ceibo.  The seals depict the signs of the statehood of Bulgaria and Argentina.  The sun of the Argentine flag shines on the Bulgarian edition, and the image of the Bulgarian lion stands out on the Argentine edition ", said Minister Georgi Todorov.
 He added that the issue is a series of two postage stamps and has a circulation of 10,000 copies.  According to him, this will be one of the most sought after publications among philatelists not only in Bulgaria and Argentina, but also among collectors from around the world.