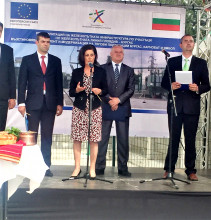 After the completion of traction substations Yambol, Karnobat and Bourgas, we double the power supply and the capacity of the railway line between Plovdiv and Burgas. This was stated by the head of the Managing Authority of OP Transport and Transport Infrastructure (OPTTI), Galina Vasileva during an official ceremony for the opening of the three sites, which took place yesterday in Yambol.
The modernization of traction substations is part of a project funded by the OPTTI 2014-2020. Its total value is approximately BGN 21 million, and the renovated facilities provide the power supply for the 145 km section between Kermen and Burgas.
"These facilities are only part of a larger project for the modernization of the railway line from Plovdiv to Burgas, which includes the renovation of several railway sections and new signaling and telecommunication systems," Galina Vasileva said. She added that the second stage of the project is currently being implemented, with an indicative value of more than BGN 700 million from OPTTI and includes more than 30 contracts for implementation of different activities. "The start of the project's first phase was initiated by Minister Ivaylo Moskovski, as Head of OP "Transport". For this ten-year period, he has great support for the implementation of all infrastructure projects under the program," Vassileva said.
Another object that was opened today is the modernized railway section Straldzha - Tserkovski, which is also part of the Plovdiv - Burgas direction. The funding provided for this railway section, under the OPTTI, is BGN 4.2 million and the average speed is 145 km/h. According to Galina Vasileva, this is the first rehabilitated section that was opened for this programming period. The section Skutare - Orizovo, with a length of 26 km is expected to be completed next year.