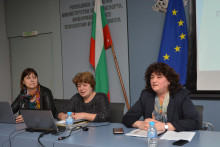 The Expert Public Council on Internet Governance and ICT has resumed its work. "With the first meeting of the Board of Trustees, the relationship between the administration and the participants in the Internet society has been re-established," Andreana Atanasova, Deputy Minister of Transport, Information Technology and Communications, said during the meeting. She stressed that this sector requires the efforts of all stakeholders, since the administration cannot make decisions in it without the public will and public opinion.
Improving the effectiveness of uniform standards policy for administrations' website names and e-mail addresses is one of the council's first decisions. The aim is, on the one hand, to ensure the implementation of cybersecurity measures and, on the other, to facilitate citizens and businesses using electronic services. During the meeting, an analysis of the internet names and e-mail addresses of 238 municipalities was presented. It shows that different administrations have chosen a variety of approaches - 74 percent use names on the "bg" Internet space, and the rest have preferred other domains. 23 percent of the surveyed local authorities announced a contact link in the e-mail "abv.bg" and the rest preferred other service providers. There are internet site names that are randomly selected without creating associations with the municipality name.
Internet Governance is one of the priorities of Digital Bulgaria 2025 Programme. In this regard, the Expert Public Council will support the implementation of the activities in the strategy document.