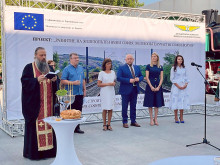 The railway connectivity of the countries of the Western Balkans is of exceptional importance, which necessitates the rapid implementation of infrastructure projects in the directions to Serbia and Northern Macedonia. This is what the Deputy Minister of Transport, Information Technology and Communications Neli Andreeva announced at the launch ceremony of the project "Development of the Railway Junction: Sofia-Voluyak". It is co-financed by the Connecting Europe Facility (CEF). The value of the construction contract is BGN 199,850,060 without VAT, and its contractor is ZGOP BULGARIA DZZD, including the companies: Todini Bulgaria OOD and ZGOP AD.
The development of the Orient/East-Mediterranean Corridor from the Serbian border-Sofia-Plovdiv-Burgas, with the section to Svilengrad is carried out in accordance with the European regulations and the only thing left to complete is the direction from Sofia to the Serbian border, Deputy Minister Andreeva said. "With the start of this project, I believe we are taking the first step towards this and I expect the Volujak-Dragoman project to start soon, which will continue the modernization of the Sofia-Dragoman-Serbian border railway", she added.
The Policy of the Ministry of Transport, Information Technology and Communications is to actively improve mobility and connectivity with all neighboring countries, as well as to strengthen economic and social relations. Actions have been taken to build a railway connection with the Republic of North Macedonia as well.
"I hope that in this way we will contribute to the European Green Deal, whose priorities are to shift traffic from road to rail for both passengers and freight transport. To ensure the safety of transport and to give our railways a European look", Neli Andreeva said in conclusion.