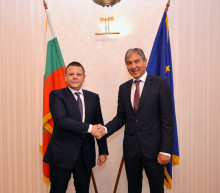 I am thoroughly acquainted with the transport system, my main task will be to reduce the tension in the sector. This was stated by the Deputy Prime Minister for Economic Policies and Minister of Transport and Communications in the Caretaker Government, Hristo Alexiev, upon assuming the post today.
"I plan to have my first meetings with the branch organizations in the transport sector. It is important to resume dialogue with the industry. The provision of transport services to citizens and enterprises must be guaranteed, and it is necessary to look for mechanisms to reduce their price, because they directly affect the value of all goods and services", he added.
The new team will exercise control over transparency in the preparation and conduct of public procurement procedures for the major railway projects that will be financed under the Recovery and Resilience Plan. The fulfillment of the commitments under the concession contracts of transport sites is also a top priority.
Minister Alexiev expressed his regret that the former Head of the Ministry - Nikolay Sabev - was not present at the Handover Ceremony of the Administration due to his wife's positive COVID test. The post was handed over by Deputy Minister Vladimir Varbanov.