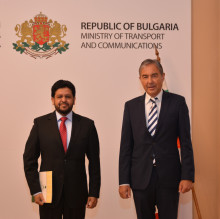 The Bulgarian side is ready to provide airport fee incentives and suitable time slots for landing and take-off for air carriers to carry out regular flights between Sofia and Riyadh and Varna - Dammam. This was stated by the Deputy Minister of Transport and Communications Vladimir Varbanov during a meeting today with the Deputy Ambassador of the Kingdom of Saudi Arabia and Minister Plenipotentiary H.E. Naif bin Asai.
In order to start operating the air routes, the operators must provide the necessary documentation to the civil aviation authorities of the other country and submit a request for the implementation of their flight program.
Deputy Minister Varbanov handed over an invitation, which will also be sent through diplomatic channels, to the Minister of Transport and Logistic Services, Minister Saleh bin Nasser Al-Jasser, for a visit to Bulgaria. During the visit, an Air Services Agreement is expected to be signed.
During the conversation today, it was emphasized that Saudi Arabia is a very important partner of Bulgaria in the Middle East, and our country has a key regional role in Europe for Saudi Arabia. Normal 0 21 false false false BG KO X-NONE /* Style Definitions */ table.MsoNormalTable {mso-style-name:"Table Normal"; mso-tstyle-rowband-size:0; mso-tstyle-colband-size:0; mso-style-noshow:yes; mso-style-priority:99; mso-style-parent:""; mso-padding-alt:0cm 5.4pt 0cm 5.4pt; mso-para-margin-top:0cm; mso-para-margin-right:0cm; mso-para-margin-bottom:8.0pt; mso-para-margin-left:0cm; line-height:107%; mso-pagination:widow-orphan; font-size:11.0pt; font-family:"Calibri",sans-serif; mso-ascii-font-family:Calibri; mso-ascii-theme-font:minor-latin; mso-hansi-font-family:Calibri; mso-hansi-theme-font:minor-latin; mso-fareast-language:EN-US;}