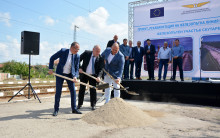 We have invested 70 mil. BGN for the rehabilitation of the 26 km long railway section from Skutare to Orizovo, stated Deputy Minister of Transport, Information Technology and Communications Velik Zanchev during the ground breaking ceremony of the section. In his words, construction activities should finish by the beginning of 2019 and hence the trains could travel at speed between 130 and 160 km/h. He said that Belozem railway station will be also modernized within a year and a half.
Deputy Minister Zanchev announced that tomorrow will start the rehabilitation of the section Straldzha – Tserkovski too, which is also part of the railway line Plovdiv – Bourgas and by the end of the year will start the construction of the railway line from Sofia to Elin Pelin as well. We are aiming to have a thoroughly modernized railway highway form the Serbian border to port Bourgas by 2022.
The Deputy Minister informed that the funds agreed for the railway projects axis in the new Programming period of OP on "Transport and Transport Infrastructure" are about 64 mil. BGN. Two other major projects are at a final stage. We work actively for the purchase of a rolling stock that will move along the renewed tracks and our plans are to have the first new trains by the mid of 2020, added Zanchev.
The program of the Deputy Minister continues with a visit to Port Bourgas. Velik Zanchev will have meetings with the managements of the state and the private port operators. He will visit the Vessel Traffic Management Tower,  Passenger Terminal Bourgas, the renovated Warehouse-1, the pier and the quay wall and will supervise the loading and unloading activities at the port.
***
The rehabilitation of the railway section Skutare – Orizovo is part of the second phase of the project "Rehabilitation of the railway infrastructure along the railway line Plovdiv – Bourgas", funded under OP on "Transport and Transport Infrastructure" 2014-2020.