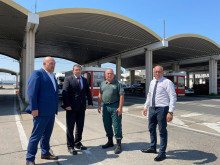 The necessary measures for introducing a new organization of heavy goods traffic at the Danube Bridge in Ruse were discussed during the meeting held today in the city. The Interdepartmental Working Group established between MTC, MRDPW and the Ministry of the Interior identified four points allowing the parking of heavy goods vehicles - Stara Zagora, Veliko Tarnovo, Razgrad and Byala in order to ease the traffic in the city of Ruse, as well as the construction of buffer parking.
"Intensive traffic has increased several times and will be controlled by the responsible institutions 24/7 through the introduction of a pass mode in order not to burden the traffic in the city of Ruse and ease the crossing of the Danube Bridge 1 checkpoint", Deputy Minister of Transport and Communications Nikolay Naydenov said. "The idea is to find a long-term solution during these meetings, and not to look for optimal options every year", he added.
A conceptual project for easing of the traffic in the city was also discussed. It envisages that the Southern lane in the area of ​​the Tegra Road Junction, direction from Ruse to Marten, becomes a two-way traffic, as well as a ban is introduced on stopping of the motor vehicles in both directions. At the same time, the two lanes of the Northern lane, i.e. in the direction from Marten to Ruse in the section from the Tegra Road Junction to the Industrial Zone Roundabout, shall be used entirely for arranging the waiting trucks, and the corresponding section of the lane will be completely closed for other road users. It is expected that the described reorganization will ensure the permeability of traffic in both directions, thus avoiding the possibility of creating traffic jams. If the project is approved, it will be implemented.
After taking office, Deputy Prime Ministers Hristo Alexiev and Ivan Demerdzhiev tasked the responsible institutions to develop and implement short-term measures for the normalization of border crossing points in the country. Minister Alexiev will initiate a meeting with his Romanian colleague Sorin Mihai Grindeanu to find long-term solutions to speed up the passage through the border points between the two countries.
The meeting was hosted by Ruse Regional Administration. The Regional Governor Anatoli Stanev, the City Mayor Pencho Milkov, the representatives of the responsible institutions, businesses and the Mayors of Marten, Nikolovo and Sandrovo took part.