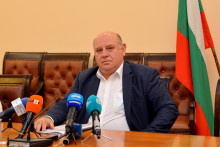 The rescue plan for the release of the stranded cargo ship Vera SU has not been approved by the responsible institutions - the Ministry of Transport, Information Technology and Communications, the Ministry of Environment and Water and the Black Sea Basin Directorate - Varna, the Executive Director of Maritime Administration Executive Agency Capt. Zhivko Petrov said in a briefing. After getting acquainted in detail, we did not accept the part with the unloading of the ship at sea. The plan proposes to unload at least half of the cargo at sea. "The ship is transporting 3,300 tons of nitrogen fertilizers, which means about 1,500 tons to be dumped into the sea. The cargo is not dangerous, but it is not the best solution in the protected area of Yailata to have such a concentration of nitrogen fertilizers", Capt. Zhivko Petrov added.
Capt. Petrov explained that there could be no danger of an oil spill, as the fuel was withdrawn in internal tanks.
The transhipment operation planned for today has been thwarted, as the area did not allow the positioning of two vessels - a floating crane and a barge - to stand next to the stranded ship.
"Inspections continue, looking for the most optimal course of action. The uneasiness stems from a possible sharp deterioration of the weather, which could lead to the ship crashing into the rocks. Even if the cargo of nitrogen fertilizers is thrown into the sea, there is no danger of an ecological catastrophe", the Executive Director of Maritime Administration Executive Agency firmly added.
The entire operation to release the vessel is carried out by the shipowner, the hired company and the insurance company of the cargo ship Vera SU. The Maritime Administration Executive Agency is a control authority. "Our obligation in accordance with Ch. 14 of the Merchant Shipping Code is to order the shipowner to release his ship and to monitor and control the process to prevent pollution", Capt. Petrov concluded.