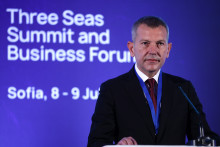 "Responsible state policy and the attraction of foreign investment will contribute to achieving sustainable connectivity, accelerated economic development and improvement of competitiveness in Eastern Europe", Minister of Transport, Information Technology and Communications Georgi Todorov stated at the opening of the Transport panel at the business forum of the Three Seas 2021 initiative, hosted by Bulgaria.
I am convinced that the joint efforts of the countries in the region between the Adriatic, the Baltic and the Black Seas will contribute to overcoming the existing infrastructure inefficiencies and bottlenecks, Georgi Todorov said. Modernization, digitalization and green modal shift in all modes of transport have a huge potential for future investment and innovation in the fields of transport, energy and digital infrastructure. The Three Seas initiative is already yielding its first results with the two projects under realization in Estonia and Poland.
The Ministry of Transport, Information Technology and Communications made steps to improve connectivity in the North-South direction and together with the Hellenic Republic we strive to implement projects in this direction. To ensure sustainable connectivity between the Bulgarian Black Sea ports and the Adriatic coast, we resumed the dialogue to finalize the activities for the construction of transport infrastructure along Corridor № VIII between Bulgaria, the Republic of Northern Macedonia and the Republic of Albania, Minister Georgi Todorov added. The Ministry is actively working to improve mobility and connectivity on a bilateral and multilateral basis with the countries in the Western Balkans region.
"As a representative of the leading institution on one of the priority axes of the Three Seas initiative - digital mobility, I will add that it unites two of the three leading lines of cooperation within the Three Seas - transport and digitalization. We understand that these activities will be crucial in the future, in view of the new mission of railway transport, in the context of the Green Deal, the economic recovery from the pandemic, and the EU's policies to create a steady trend towards shift freight transport from road to rail. Actions have been taken to restore the Rousse-Varna railway line, which is one of the priority projects with cross-border and vertical significance of the "Three Seas" initiative, Minister Todorov said.
Europe has turned its focus towards a greener and more digitalized mobility and transport system, by reducing the carbon footprint, improving the security and quality of services offered, Minister of Transport Todorov concluded.
During the forum, the President of the Republic of Bulgaria Rumen Radev and the Minister of Transport, Information Technology and Communications Georgi Todorov validated a postal and philatelic edition dedicated to the Bulgarian chaimanship of the Three Seas initiative. The postage stamp is a universal symbol of uniting people. The philatelic message will reach not only the governments and institutions, but also the nationals of the countries between the Black, the Baltic and the Adriatic Seas. The issue consists of one postage stamp in a block with a circulation of 5,100 copies. The artist of the project is Ognyan Stefanov.